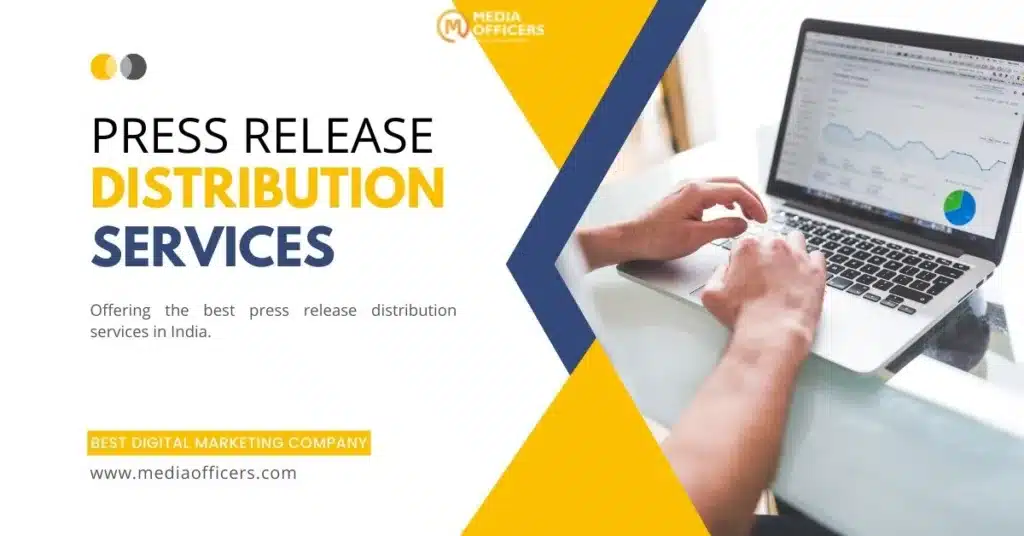 Press release distribution services
Press Release Distribution Service provider "Mediaofficers" is a guiding light in the broad media world. But what does this contain exactly, and why is it important for you?
What is a press release distribution?
Press release distribution is getting a well-written press release out to more people through different channels. A press release distribution service isn't just a way to get information out there; it's a smart way to get your message across all digital platforms. At its core, this service ensures that your carefully written press release gets to the right people at the right time, so it has the most impact possible.
How does the press release distribution work?
Core Work
At its core, press release distribution is the organized process of getting a well-written press release out to more people through different channels. Using dedicated platforms and networks to spread your content to a lot more people than normal outreach could do is how it works.
Smooth Connections
Once you've carefully written your press release, the distribution service will connect it with a huge group of journalists, media outlets, and influential people. By connecting easily, your message will spread across multiple online platforms and have a lasting effect on many people
Why Press Release Distribution Matters
Vision for the future


The main goal of any press release is to get people's attention.

Press Release Distribution Services

are great at getting your content in front of journalists and news outlets that are looking for interesting stories. This strategic visibility makes it much more likely that someone will pick up on your message and give it the attention it deserves.

Getting people to trust you by being credible


Credibility is very important in the digital world. Using a

press release distribution service

not only makes sure that people see your content, but it also builds trust in your brand as a source of information. Getting media coverage through these services gives your business more credibility, which builds trust among your audience.

Making SEO work better


One of the most important parts of being visible online is

search engine optimization (SEO).

When distributed strategically through reputable services, a well-written press release can have a big effect on your website's SEO. When your site has backlinks from trustworthy sources, search engines see it as more trustworthy, which could help it rank higher.
There are a lot of Press Release Distribution Services to choose from, so picking us isn't just a choice; it's a strategic move that will help your digital communication efforts reach new heights. Here's why you should let us handle your press releases:
A track record of success
We are very proud of our track record of success. Our services have always led to real results, like getting our clients' stories published in trustworthy media outlets and getting them important coverage. Because we've been good in the past, you can trust us to be a good partner.
Reach around the world with local accuracy
Our services can reach people all over the world, no matter where they are. Our strategic distribution makes sure that your press release gets to the right people, whether they are in the same country, the same state, or another country. We use both global reach and local expertise to make the biggest impact possible.
Strategies Made to Fit Every Industry
Our approach is based on knowing how different industries work and what makes them unique. We make sure that our distribution plans work well with the ways that certain industries talk to each other. This focus on the industry makes sure that your message really hits home in that area.
Clear and up-to-date analytics
We promise to be open and honest, and it's an important part of the services we offer. Our real-time tracking and analytics give you information about how well your press release did that you can use. Learn about your content's reach, engagement, and impact to make your future communication strategies more effective.
Planning for SEO optimization
For visibility in the digital age, SEO is a must. Strategic backlinking and keyword optimization are two ways that our Press Release Distribution Services help your website's SEO. With our SEO-focused approach, you can improve your online presence and maybe even move up in the search engine rankings.
It takes a lot of care to find your way around the complicated world of press release distribution. Here's a sneak peek at how we make sure your press releases have the most impact possible:
Talking to you and getting to know your goals
Knowing your specific goals is the first step to running a successful campaign. We start with a thorough consultation to get a sense of your message, your audience, and the results you want. Your goals become the compass that guides the whole process.
How to Write Powerful Press Releases
We have a team of skilled writers and content strategists who make sure that your press releases not only get your message across but also follow best practices for SEO. Success starts with interesting stories, keyword optimization, and a focus on language that is specific to the industry.
Planning for strategic distribution
Distribution is not a one-size-fits-all method. We carefully consider your target audience, industry channels, and geographical relevance when planning how to distribute your press release. This customized method makes sure that the right people hear your message at the right time.
Using connections with the media
One of our biggest strengths is the number of media contacts we have. We use these connections to publish your content in reputable places so that many people can see it and it has support from trustworthy sources.
Reporting and monitoring in real time
We still have work to do after your press release comes out. We use monitoring and reporting tools that work in real time to keep an eye on how well your content is doing. Detailed analytics give you information that helps you make smart choices about future campaigns.
Benefits of Press Release Distribution
Press Release Distribution isn't just a way to get information out there; it's also a strategic tool that can help both individuals and businesses in many ways. Allow us to look at the benefits of using Press Release Distribution services:
Better Visibility


By strategically targeting journalists, influencers, and media outlets looking for engaging stories, Press Release Distribution services increase your reach. This increased visibility gives your message the attention it deserves.

Credibility Increase


Distribution services boost brand credibility by featuring your brand in reputable media. Media coverage legitimizes your message and establishes you as an authority.

Search engine optimization


Strategically distributed press releases generate authoritative backlinks for your website. Search engines may boost your site's credibility and rankings with these backlinks.

Targeted Audience Reach

Distribution services enable niche targeting for industries, demographics, or regions. Your content will reach your target audience with precision with this targeted approach.

Increased Marketing Impact


Press Release Distribution complements your marketing strategy. It boosts your marketing campaigns by complementing your content marketi
Q1: Why is Press Release Distribution important?
Press Release Distribution is very important if you want your message to have the most impact in the digital world. For strategic visibility, building credibility, helping with SEO, and reaching the right people, it's an essential tool for modern communication.
Q2: How do I choose the right Press Release Distribution service?
Think about things like a global reach, relevance to the industry, and a history of success. Pick a service that works well with your intended audience to make sure that your press release resonates well within your industry and beyond.
Q3: What makes a press release effective?
A good press release is short, interesting, and specific to the people you want to reach. It should have an interesting headline, useful information, and a clear call to action. Engage your audience with a well-written story.
Q4: How does Press Release Distribution contribute to SEO?
When you send out press releases, authoritative sources link back to your website. This makes it more trustworthy in the eyes of search engines. This kind of strategic backlinking might help your search engine rankings.
Q5: What industries benefit most from Press Release Distribution?
Many different types of businesses can benefit from press release distribution. Distribution services can help any industry that wants to spread its message to more people, from healthcare and entertainment to technology and finance.
Our distribution services make it easy to start a journey with MediaOfficers. Get in touch with us right away, and let's figure out what your story can do.
This is the best logo design company in india
rudhrah Freelancer
2023-09-20
Amazing Staff And Service Provider By Media officers it's really appreciated 🙂 Best Website Development agency I found in ropar
dev jyotish गुरु ज्ञान
2023-09-19
Best company
Gagandeep Nanda
2023-09-19
Best logo design company
singh electrical
2023-09-19
best professional digital company in india
Good service provider
Best logo design company
The professional digital marketing company in punjab area.
Best logo design company in india.. professional agency
Have a Project on mind?
We can help you bring your ideas to life. Let's talk about what we can build and raise together.
Let us together build a flourishing business
When connected with us, you aren't growing your business alone. We have your back and put in our best to contribute to the growth of your entire team and organization. So, if you are looking for the right agency that'll help you build a good online presence and bring in more conversions and revenue, we are right here!